A little bit about Quickor Garage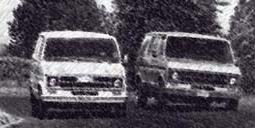 We're glad you're looking at Quickor Garage. We are here to provide you the best suspension in the industry, and want to be your performance handling company. We have a proud 35 year history, and would like to take this opportunity to tell you about our accomplishments.
Quickor began manufacturing anti-sway bars in 1972. Our first product was an adjustable rear anti-sway bar built in a wrought iron show that our president, Glen Rissberger, owned. Shortly after that first rear bar was made, a friend of Glen's came in and asked if he could have a custom set of bars made for his Dodge van (a race car hauler). The van bar worked so well, that within a couple of weeks, the word was out and Glen had orders for nearly a dozen bars. He didn't need a slide rule to figure out that he had a market.
New bending machinery was built, and a line of van sway bars was introduced. Two articles were published in 1973 about the bars, advertisements were published, and the orders started rolling in. It was fine until the 1979 gas crunch, when the van market died. Quickor then turned it's attention to developing the import market. In fact, Quickor was the first in the United States to develop a performance suspension for the Mazda RX-7.
In 1987, Quickor was sold to Warn Industries, of the Warn Winch fame. In 1995, the original owner, Glen Rissberger, regained the Quickor name.
Today, Quickor builds anti-sway bars, springs, polyurethane bushings, and a variety of other suspension parts for a diversified group of cars, specializing in the 50's, 60's, and 70's muscle cars, and today's SUVs. Our product line is expanding daily.
We hope you will let us serve all of your suspension and handling needs.
Thanks,
The Quickor Team.

Contact Information
Telephone

503-819-7847

Mailing Address

P.O. Box 68011

Portland, Oregon 97268

Electronic mail

General Information: info@quickorgarage.com
Sales: sales@quickorgarage.com
Webmaster: webmaster@quickorgarage.com